Committees
Theme chairs
FROM SHELL SHOCK TO MENTAL FITNESS
Kaat Goorts

Kaat Goorts was born on November 17, 1993 in Leuven (Belgium) as the middle child of three. She finished college (math-sciences), at 'Montfortcollege' Rotselaar, in 2011. After college, Kaat went to the 'sociale hogeschool' to study social work. Then, she started universitary studies in Leuven, where she graduated as a social scientist in 2016. In 2016, she successfully applied for a research project at KU Leuven. From September 2016 until June 2020, she worked as a PhD student at the Department of Public health and Primary Care, Environment and Health (KU Leuven) under supervision of Prof. Dr. Lode Godderis. She became certified windsurfing trainer in 2017 and graduated as a social statistician in 2020. She went to Australia to validate her study results at the University of South Australia (Adelaide) from September until December 2019. She got the chance to participate in many national and international congresses where she presented her work. She also assisted master students Biomedical Sciences and Health policy with their thesis. In 2020 she started as a freelance research consultant at the Belgian Defense. She is working on different topics considering health and wellbeing of the military personnel such as sick leave and return to work.
THE BATTLE AGAINST INFECTIONS & PHAGE THERAPY
Jean-Paul Pirnay

Jean-Paul Pirnay (° Antwerp, 1967) graduated as Industrial Engineer in Biochemistry and Biotechnology in 1990. He performed his military service in 1993 and served since then as a researcher in the Queen Astrid Military Hospital (QAMH) in Brussels (where he performed his military service). He contributed to the development of the human cell and =ssue banks and to the introduc=on of molecular microbiology and phage therapy in the QAMH. In 2003, he received a PhD in Medical Sciences for the study of the molecular eco-epidemiology of Pseudomonas aeruginosa. He is currently Research Coordinator of the QAMH and head of the Laboratory for Molecular and Cellular Technology (LabMCT), which harbors the human cell and tissue banks of the QAMH, a phage research laboratory and a cleanroom production facility. He is involved in several research projects, including the development of therapeutic phage preparations.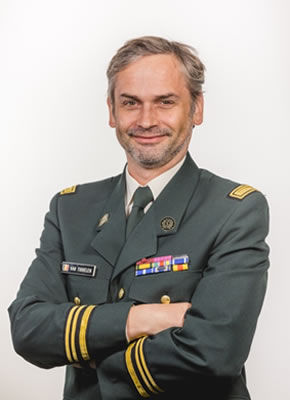 FROM REHAB TO PREHAB
Damien Van Tiggelen

Damien Van Tiggelen (° Gent, 1970) graduated in Rehabilitation Sciences & Physiotherapy in 1993 at the Ghent University. He joined the Armed Forces that same year. In 1994, he became responsible physiotherapist for the orthopaedic and rehabilitation wards of the Queen Astrid Military Hospital (QAMH) in Brussels. Later he became head physiotherapist of the QAMH. In 1998, he graduated as Manual Therapist at the Ghent University and followed a specialized course in isokinetic rehabilitation from 2000 to 2002 at the University of Liège. He obtained a PhD degree under the supervision of Prof dr Erik Witvrouw at the Ghent University in 2009. His PhD is titled : "The prevention of patellofemoral pain in military recruits". He is currently visiting professor at the Faculty of Medicine & Health Sciences, Department of Rehabilitation Sciences at the Ghent University. Meanwhile, he participated in 6 military operations in Eastern-Slavonia, Bosnia, Kosovo and Afghanistan. He is currently head of the Center for Physical Medicine & Rehabilitation of the QAMH.
FAR FORWARD SURGERY
Jean-Charles de Schoutheete

Jean-Charles de Schoutheete (° Brussels, 1985) joined the Belgian Royal Military Academy in 2003. In 2010, he graduated as Medical Doctor at the UCLouvain and began his specialty training in surgery at the KU Leuven. During this time, he built up experience in several countries such as Belgium, Spain, Curacao, the Netherlands and the United Kingdom. He fulfilled a fellowship in trauma surgery at the KU Leuven in 2019. Doctor de Schoutheete is a certified European Trauma Course Instructor. He currently works as military surgeon at the University Hospitals Leuven and at the Belgian Defence. In this context, he has been deployed repeatedly with the Belgian Special Operations Surgical Team, as well as with the French one, in Middle East and Africa. He also participated in humanitarian missions with the Sovereign Order of Malta. He published several papers about acute care and trauma surgery.
Technical Committees
CHAIRMAN OF THE COMMISSION ON ADMINISTRATION AND MEDICO-MILITARY LOGISTICS
Senior Col. Min YU (China)
myu@cimm-icmm.org
CHAIRMAN OF THE COMMISSION FOR DENTISTRY
Col. (Dent.) Amar KOSARAJU, DMD, Msed, BS. (U.S.A.)
akosaraju@cimm-icmm.org
CHAIRMAN OF THE COMMISSION FOR VETERINARY SCIENCE
Col. (Vet.) Leander BUCHNER (Germany)
lbuchner@cimm-icmm.org
CHAIRWOMAN (a.i.) OF THE COMMISSION FOR NURSES AND PARAMEDICS
Gp. Capt. Diane (Di) LAMB (United Kingdom)
dlamb@cimm-icmm.org